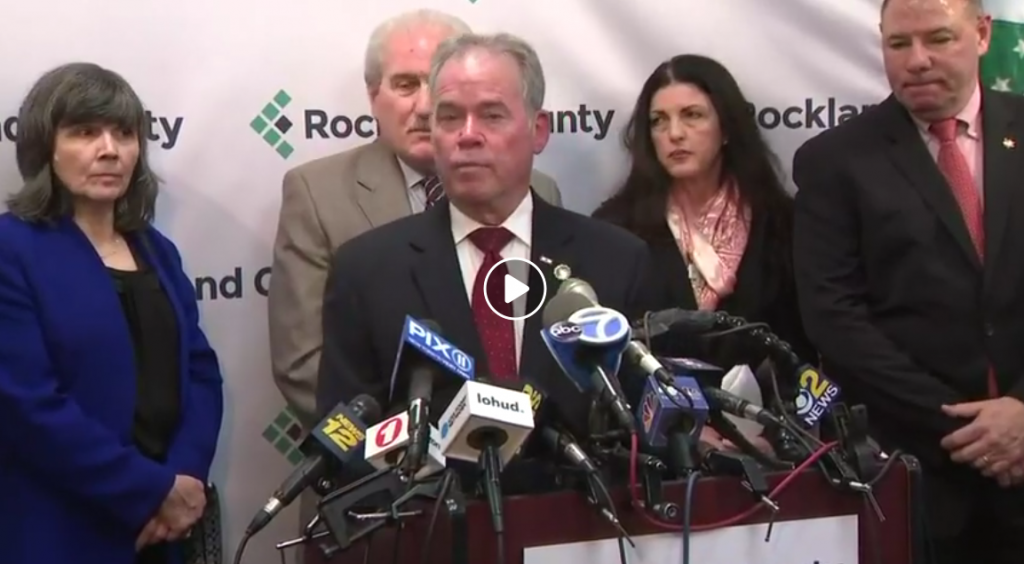 Rockland County in New York will declare a countywide State of Emergency relating to the ongoing measles outbreak Tuesday afternoon.
Effective at the stroke of midnight, Wednesday, anyone who is under 18 years of age and unvaccinated against the measles will be barred from public places until this declaration expires in 30 days or until they receive the MMR vaccination, though it's unclear how authorities plan on enforcing the ban.
When asked how the ban will be enforced, Rockland County Executive Ed Day said, "We're expecting people to understand that we are bumping up the seriousness publicly through government regulation and we're expecting families and parent to realize that it's now against the law… we're not a society here where we're going to go chasing people down."
Violations would be a class B misdemeanor coming with up to 6 months of jail time.
As of Tuesday, there are 153 confirmed reported cases of measles in the county, according to Rockland country Department of Health, over 82% of which did not receive the MMR vaccination.
According to the county, the measles outbreak in Rockland is not limited to one community, but it is affecting residents of Spring Valley, New Square, and Monsey.
Rockland County has been grappling with a measles outbreak in recent months — previously asking students who are unvaccinated to not attend school.
Measles is a highly contagious respiratory disease (in the lungs and breathing tubes) caused by a virus that is spread by direct contact with nasal or throat secretions of infected people (when a person infected with the measles virus breathes, coughs, or sneezes). Measles is one of the most contagious viruses on earth; one measles infected person can give the virus to 18 others. In fact, 90% of unvaccinated people exposed to the virus become infected. You can catch measles just by being in a room where a person with measles has been, up to 2 hours after that person is gone. And you can catch measles from an infected person even before they have a measles rash.
Measles is also one of the deadliest diseases on earth, but not in the developed world, where mortality was extremely low even before vaccination.