Following US Representative Adam Schiff's ominous letter to Facebook's CEO Mark Zuckerberg pressing on them to censor vaccine "misinformation", US Representative Bill Posey wrote an open letter of his own, calling out Schiff's misinformation:
IF VACCINES DO NOT CAUSE INJURIES, WHY HAS THE VACCINE INJURY TRUST FUND PAID OUT $4,061,322,557.08 FOR VACCINE INJURIES?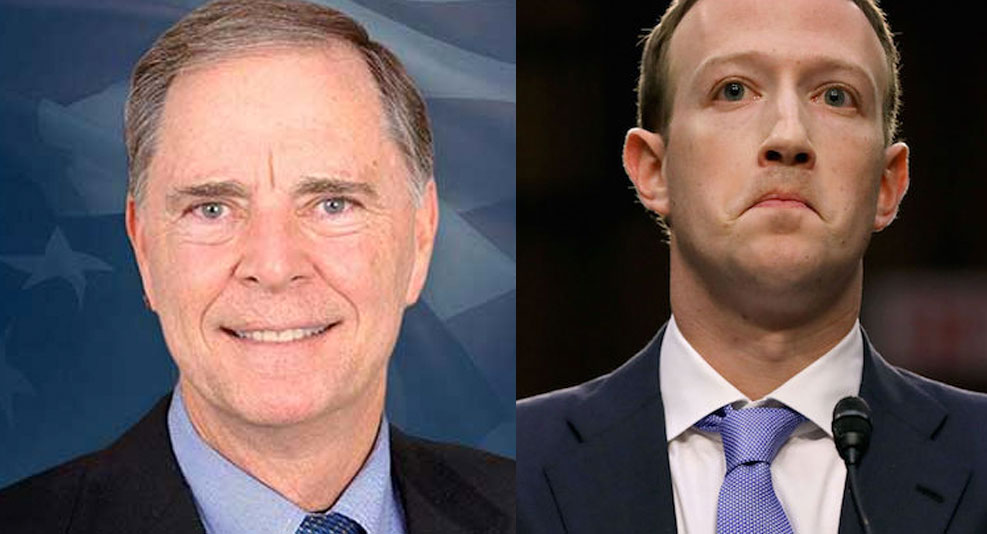 Dear Mr. Zuckerberg:
I am supportive of childhood vaccinations and believe that parents should have their children vaccinated against vaccine preventable illnesses. I also respect the right of parents to make fully informed medical decisions including those regarding vaccinations. Decisions about vaccinations, like all medications, should be decided based on the family's medical history including allergies and history of auto-immune diseases as well as other factors.
I also agree with our nation's public health officials and federal agencies that vaccines can have life-threatening and debilitating effects on some children and adults. The number of serious adverse reactions may be small on a population level, but to children who suffer life-long debilitation and the families that care for them it is no small matter. It is something they live with every day. It is life-altering and often life-consuming.
A media report suggests that Facebook is considering limiting the free speech of Americans who present safety concerns about vaccinations online including on Facebook and within Facebook groups. I have some questions about this matter and would also like to provide some facts regarding blatantly false information you received in a February 14th letter (enclosed) from my colleague Rep. Adam Schiff. The letter states, "There is no evidence to suggest that vaccines cause life–threatening or disabling diseases." The Institute of Medicine, the Centers for Disease Control, and manufacturers all acknowledge that vaccines can cause harm to infants, children and adults. The vaccine injury table listing a wide range of more than 50 adverse reactions for recommended/mandated vaccines is available at https://www.hrsa.gov/sites/default/files/vaccinecompensation/vaccineinjurytable.pdf (enclosed). I have serious concerns that Facebook, based on false statements and similar ill-informed assertions, may initiate limits on the free speech of Americans who enjoy the community sharing of information and ideas online through Facebook.
There is likely not a more contentious topic in medicine today than vaccinations. As a legislator who has monitored these safety concerns while serving in the Florida legislature and since entering Congress in 2008, I know there are many layers to this issue including concerns about the fidelity of some of the safety studies conducted in the last 20 years.
Vaccines, like every medication, have risks and benefits that are taken into consideration by the Food and Drug Administration (FDA) in the licensing process. One of the most valuable resources available online from the manufacturer and the FDA is the package insert from each vaccine. The package insert is the FDA approved statement about the product, the ingredients, the known risks and benefits as well as information about contraindications. It is speculated that serious reactions are rare, but they do exist. The National Library of Medicine for instance acknowledges that the Measles-Mumps-Rubella (MMR) vaccine can cause seizures, deafness, brain damage and very rarely death. In fact, a February 4, 2019, U.S. Department of Health and Human Services Report, notes that the federal government has compensated over 440 children for MMR-related injury claims.
Because vaccine injuries do occur, now retired Congressman Henry Waxman (D-CA) spearheaded bipartisan legislation creating the National Vaccine Injury Compensation Program (NVICP) in the 1980s which was signed into law by President Ronald Regan. The NVICP was designed as a no fault alternative to the traditional tort system to compensate those who suffer serious injury from the covered vaccines while providing liability protection to the vaccine manufacturers and the medical personnel who administer vaccines.
According to the most recent NVICP report, since its inception, over $4 billion has been paid to more than 6,300 people for their vaccine injuries including between 500 and 700 individuals in each of the last four years. The number of children and adults compensated for vaccine injuries is 400% higher than it was a decade ago and 600% higher than it was in 1999.
Vaccines hold a unique place in our society. They are the only medications mandated by state governments, based on federal recommendations while also having liability protections for manufacturers and those administering the vaccine. As such it is critically important for the public to have access to open and honest dialogue. It is also critically important that we remain ever. vigilant to ensure that everything is done to make vaccines as safe as possible, particularly since government is mandating that they be given to perfectly healthy children.
As you know medical science is not stagnant. One has simply to look at the progress in brain research in areas such as neuroplasticity as well as the current research on the microbiome and depression to understand that our scientific knowledge is always evolving. In the 1960s through the 1990s, we used an oral polio vaccine in the United States. Because it was a live virus vaccine that at times transmitted the polio virus through virus shedding, the Centers for Disease Control and Prevention (CDC) stopped recommending its use in the United States and now only recommends the injected polio vaccine. In 1999 the newly introduced Rotashield vaccine was recalled after ten cases of intussusception, a serious adverse event, were reported in infants. Experts in the field created a new field of study known as vaccine adversomics. We are just scratching the surface of understanding who is at a higher risk for vaccine adverse reactions. The compensation of Hannah Poling in the NVICP highlighted that mitochondrial dysfunction may be a risk factor for the development of autism-like" features according to past CDC Director Julie Gerberding.'
The word of mouth discussion such as that on Facebook is one of the ways common elements of vaccine injuries become known and can be addressed within the medical-public health environment
I have refrained from portraying the parents and groups who talk about vaccines as 'anti-vaccine because that is a bullying-tactic being used by individuals online and in the media rather than an accurate reflection of the thousands of parents who are expressing concerns about safety and asking federal public health authorities to conduct higher quality research to reduce the risks of seizures, brain injury, and other life altering adverse events. In fact, some of the parents engaged in such discussions believe that a particular vaccination may have contributed to the decline and adverse health outcomes of their children.
Addressing vaccine safety issues that have persisted decades is best addressed not by silencing or bullying one side or the other, but rather by engaging in a robust vaccine safety research program by truly independent researchers that will make vaccines safer and develop a better understanding of particular risk factors for infants, children and adults.
I appreciate Rep. Schiff's question and have a few of my own as well:
Do you as the CEO of Facebook believe in free speech?
Do you as the CEO of Facebook see the role of Facebook as a forum for open dialogue on topics of interest by the public?
If Facebook should decide to begin judging the medical accuracy of a statement posted by the public and by organizations, what will be the standards utilized? (For example, the letter written by U.S. Rep. Adam Schiff includes blatantly false information – would Facebook ban his letter from being posted?)
Does Facebook accept paid advertising from (a) pharmaceutical companies that produce vaccinations and are offered product liability protection through the VICCA program, (i.e. Merck, Glaxo, Pfizer, etc.) (b) medical associations that promote vaccinations (i.e. the American Academy of Pediatrics, the American Medical Association, etc.), recipients of grants from government agencies or pharmaceutical companies to promote immunizations, (Every Child By Two, etc..), or government organizations promoting vaccines su CDC or a state public health agency?
What action has Facebook taken to address the bullying of individuals who discuss vaccine injury by individuals paid to promote vaccine policies sometimes referred to online as 'trolls'?
Recent news articles have suggested that Facebook has a deboosting code? Is that true, and if so, has Facebook deployed, or are you considering deploying deboosting code to limit pages whose owners discuss vaccine safety and related issues?
Reports also indicate Facebook may label some individuals as "trolls"? Is this true? And, if so, has a troll designation been assigned in relation to the vaccine safety discussions?
I look forward to a prompt response to this important topic.
Read the original letter here.